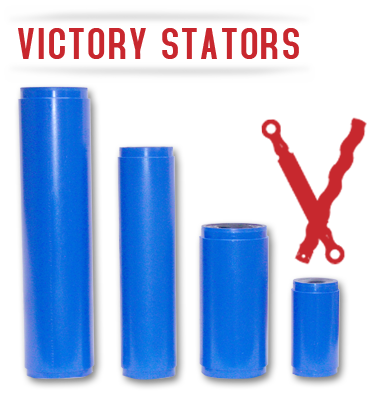 Aftermarket Progressive Cavity Pump Stators
The Stator is the most common component that will wear over time especially depending on the abrasive materials you are pumping. From a repair and refurbishment standpoint, if your Pump Stator needs replacement, your Pump Rotor probably does as well. Due to the cost in pulling a pump offline and opening it to see what needs replacement it can be easily seen simply from a costs perspective that replacing BOTH the Rotor and Stator at the time of refurbishment is the best alternative to keep downtime costs to a minimum.
The elastomeric stators for progressing cavity pumps by Liberty Process Equipment's Victory Line are manufactured to exacting tolerances utilizing quality materials to ensure a proper fit and interchangeability. Victory Line stators are available in a wide variety of elastomeric to handle any pumping application and are manufactured with sealing flanges at both ends to ensure the stator tube does not come into contact with the materials being pumped.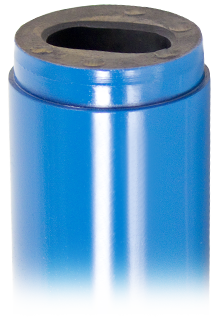 Victory Line of Stators
All of Liberty Process Equipment's Victory Line replacement Progressive Cavity Pump Stators for *Seepex® BN and MD Series pumps are available for immediate shipment in Buna, Viton, EPDM as well as Food Grade EPDM Stators are available as well. By utilizing Liberty Process Equipment's Victory Series *Seepex® Progressive Cavity Pump Stators you can be guaranteed the same volumetric efficiency, sealing capabilities and pressure stability as you've come to expect from other leading brands.
Below is a list of sizes we offer from stock. If your pump model is not listed below, please contact us for lead-time and availability. We can expedite non-stock parts or add to our stock for you in the future to meet your needs.
Aftermarket Pump Parts
Victory Series aftermarket *Seepex® Pump Parts are available from our inventory for the following *Seepex® progressive cavity pump models:
005-24
003-12
0015-24
006-12
006-24
012-12
012-24
025-12
05-12
1-6
2-6
130-6
2-12
5-6
5-12
10-6
10-12
17-6
17-12
35-6
35-12
70-6
70-12
Spare parts are Available for the following *Seepex™ Models